Etnaland AcquaPark Sicily the wait is over the Etnaland Park is open every day from 16 July al 31 August 2021, Acquapark by day and ThemePark in the evening. Here are all the news of the season 2021 COVID proof, the best of aqua slides in Sicily and the largest water park in Southern Italy. Offers Hotels B & B Hotels near Etna Land where to sleep. address Map, discounts and children free entry to 1 metro. Dates and opening times, ticket prices, Meteo Etnaland Foto Video Etnalandia https://www.casaolimpia.it/?p=1600
Etnaland AcquaPark Sicily news 2021 the largest water park in Sicily and southern Italy
For the season 2021 of the AcquaPark Etnaland the spectacular unique attractions in Italy introduced in past years are confirmed, as well as Jungle Splash Etnaland slides, wave pool con, the best toboggan Sicily and all other previous attractions as the big news DevilRace.
Super Red Cannon K
amikaze Etnaland
For the daredevils who will live the thrill of the void all & rsquo; sudden. Two cabins that placed on top of the tower , connected to two red fire hoses, house two challengers who all & rsquo; opening of the cabin hatch will be dragged and sucked into the tube and down & ugrave; up in the pool, after a launch well 90 mt with pure adrenaline experience!
Colossum and Titania water vortex
The new huge and spectacular water slide in the vortex of the water park, an infinite long slide well 160 mt colossal and unpredictable.
It 'a dinghy 4 places that will slide along the walls of the Colosseum Etnaland, that will be & agrave; sucked into the middle of a rushing vortex and pushed along a high wall 12 meters and will land & agrave; finally in water, obviously with its cargo of excited and amused passengers!
Etnaland AcquaPark Sicilia DevilRace foto e video
Mega structure, always drawn by ProSlide as the last years Precendi, with multiple descents and common goal for lovers of speed and competition. Choose your path and challenge your friends in a thrilling contest, Who will get to the finish line first.
Imagine such a thing just to give you an idea:
Hours Etnaland AcquaPark Sicily calendar when opened? Etnaland Prices How much is the ticket? Discounts Etnaland children free
The Etnaland Park is open every day from 16 July to 31 August 2021. Attention: in compliance with the Covid-19 containment protocol this year, admissions will be limited, therefore we recommend that you buy your ticket online in order to guarantee entry to the Park and a more advantageous rate.
Ticket AcquaPark Sicily Etnaland Etnaland opening and tickets online coupons
The box office opens one hour before the already Etnaland parks, however, it is better to buy tickets online to have a lower price and certainty of entry. you can buy online tickets Etnaland thus avoiding making the checkout line.
Etnaland water park videos
Etnaland AcquaPark Sicily Attractions
Map Full Etnaland Water Park
Per chi non è stato nelle ultime stagioni, è Jungle Splash è un'attrazione da provare assolutamente, appartenente alla tipologia degli "Spill Water". Jungle Splash è un percorso acquatico da affrontare a bordo di speciali imbarcazioni attraversando una porzione di giungla dove, besides the rocks and towering waterfalls (150,000 liters of water per minute) stands out in the background the drop tower will look like bamboo. That's complete map Etnaland Acquapark, Click to enlarge
Un ascensore vi porterà con le barche fino all'altezza di 25 metri per poi lasciarvi cadere, con una pendenza di 45 gradi e a forte velocità, in d & rsquo basin water below raising wave d & rsquo; high water several meters.
With the additional new area 20.000 mq. composta da cinque zone fortemente tematizzate, praticamente un piccolo parco divertimenti a se stante interamente dedicato alle famiglie con bambini è l'unico parco italiano che continua a crescere e innovare a ritmo costante nonostante la crisi. Vi terremo costantemente aggiornati sugli sviluppi, follow us!
They expect big surprises super high tech with Viewers reality & agrave; increased VR al the Prehistoric Park
and the spectacular evening ThemePark
Here is today the main water park attractions and its year of introduction and the complete map (click to enlarge)
Etnaland AcquaPark WaterSlides Dark Kamikaze (2001) – Hydro Kamikaze (2001) – Stukas (2001) – Kamikaze (2001) – Twin Twister (2001) – Rafting River (2001) – Wild River (2001) – Tobogan giganti (2001) – Big Foam (2001) – Red Cannon (2001-2015) – Black Hole (2001) – Hydrotubo 813 (2001) – Niagara Falls (2001) – Rio Anaconda (2001) – Super Red Cannon (2016) – Colossum (2016)
Etnaland Acquapark Pool Slow River (2001) - Blue Lagoon (2001) - Hydro Pool (2001) - Wave pool (2001)
Etnaland AcquaPark Miniland Laguna Children (2001) - Mini Foam (2001) - Mini Rink (2001) - Mini slide (2001) - Castle (2001)
Etnaland AcquaPark Sicilia Crocodile Rapids
Le rapide dei coccodrilli, tematizzate in stile "Africa nera", vengono attraversate su battelli a nove posti che navigano su un fiume immerso nella jungla che passa per una miniera abbandonata e consentono di vedere sia coccodrilli, elefanti, ippopotami, fenicotteri e altri animali in scala naturale. It 's probably one of the most impressive sights and engaging Etnaland for fans of the genre is fun.
Etnaland AcquaPark Sicilia Laser show
Questa attrazione, realizzata al coperto in un locale cinematografico, consente di assistere a uno spettacolo di suoni e luci laser 3D, nebbie volumetriche, giochi luminosi e sonori e tanti altri effetti visivi coinvolgenti.
Etnaland AcquaPark Sicily Brazil Blue Lagoon area
Area style themed "South America" ​​with new attractions like the lazy river for children, playgrownd children and some trampolines. Notevole è la Laguna Blu, un luogo paradisiaco con rocce, waterfalls, hydromassage All in the name relax
Etnaland AcquaPark Sicily awards and reviews
Etnaland AcquaPark is one for adults and children-see destination for a holiday in Sicily not only great. The water park features dozens of different slides for maximum fun for all ages & agrave;, attrazioni dai nomi esotici che rispondono a Laguna blu, Niagara Falls, Rafting River, Rio Anaconda, Black Hole, Red Cannon etc. Il parco dispone, oltre a tanti tobogan, anche di grandissime piscine sia per bambini che per gli adulti. Una delle attrazioni più divertenti è la piscina con le onde, più grande d'Europa.
Tutte le attrazioni sono costantemente monitorate dallo staff e in diversi punti è prevista anche l'animazione con varie attività coinvolgenti e lezioni di ballo di gruppo. Today is one of the largest water parks in Italy and is a destination for many visitors from Sicily, Calabria, Puglia e Malta. Several national awards (Parksmania Awards 2015 Etnaland best water park of & rsquo; year 2015) And International considered one of the best water parks in the world, Etnaland offers & rsquo; wide variety & agrave; of attractions including classic water slides and large themed attractions, for a & rsquo; entertainment offer that is unparalleled in Italy.
Etnaland also he received the prestigious Travellers' Choice 2015 Tripadvisor, (Given 1% percent of the accommodation on the portal), the largest travel site in the world. It does this by receiving a double rosette, it is rewarded, indeed, both in the top rankings 25 of Water parks in Europe and among the top 10 of Amusement Parks and Water d & rsquo; Italy. The prize, based on the reviews and opinions on the global travel community & egrave; become, in the last few years, a true online marketplace for those looking for accommodation.
Etnaland AcquaPark detail Sicily attractions and minimum use height
The attractions are divided into areas and by theme: twirling, dream, fly and challenge. The symbol in the bottom right if red baby indicates that & egrave; an attraction to boys 1,4 meters up, if yellow from 1,2 meters up or assisted, if the green with a minimum height 0,9 meters.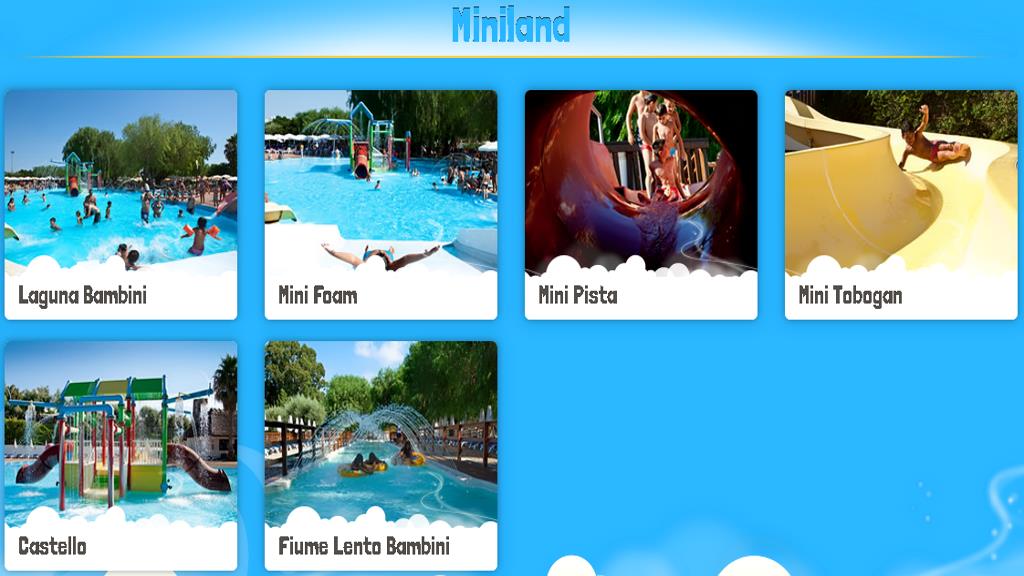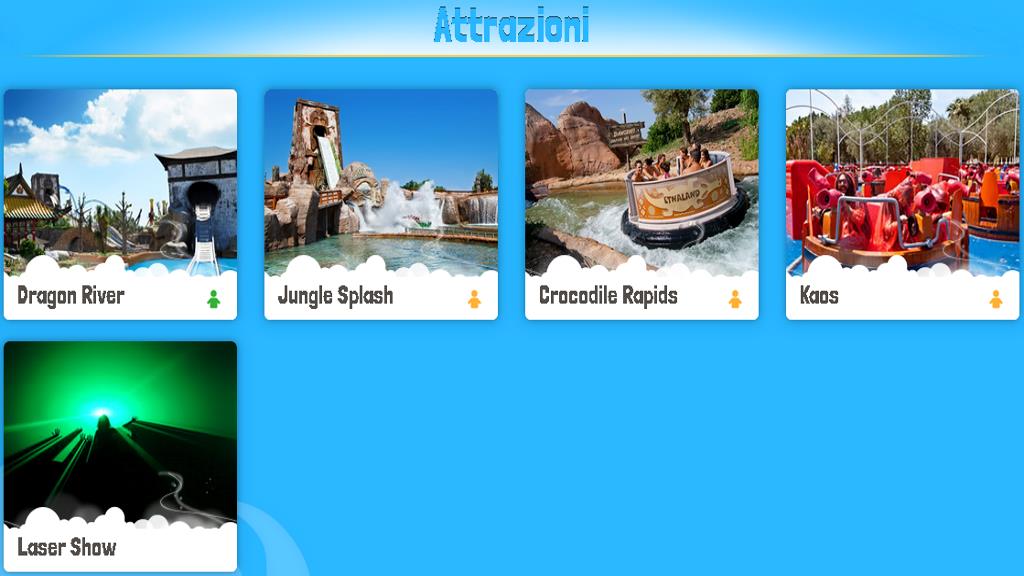 Etnaland AcquaPark Sicilia The cableway, meteo Etnaland, info contacts, Getting there and map, where to eat, where to sleep Offers Etnaland more hotels near Etna Land Catania B & B agreement
Etnaland la Funivia
La Funivia, with its 1800 meters, è la più grande telecabina a percorso pentagonale esistente in Europa. Costituita da 23 piloni di sostegno e da 5 stazioni di deviazione, è provvista di 146 cabine per una capacità di 700 people now. By performing the scenic ride on the cable car, you will enjoy a rare and unforgettable experience: you will see the '
Etna
, the immensity of the valleys and coasts, You will fly over all 3 the parks, the wonderful Botanic Park, The fun water park and the large Prehistoric Park
Etnaland meteo previsioni del tempo prossimi 7 days
Clicca qui per bollettino meteo PDF Etnaland stampa prossimi 7 days.
Etnaland Where to eat? Further information and contacts
Inside the park you can find plenty of dining options where you can choose a simple sandwich, pizza, full lunch menu and various offers with drink included . For lovers of DIY, There are several picnic areas where you can eat and share with friends the things that you brought with you from home. For more information about the park, cost tickets contact Etnaland during office hours at the following numbers (0039) 095 9897101 / 095 9897102 / 095 7913333 or
visit the web site Etnaland
Etnaland where it is and how to get
Etnaland Where to stay? Etnaland offers more hotels near convention and free child ticket free ticket
Looking for B & B, partner hotels or hotel deals near Etnaland Belpasso? Olimpia House rent rooms or entire apartment with a discount of residence or child free if up until 1 meter (in parents' bed) and free entrance to the park. We are located a half hour drive away in an ideal location for sightseeing too
Taormina
, Etna and Catania and just 2 km from the sea.
To book rooms stay and fill out the information request form or call us at 3294138813
See path for how to get to Etna Land in half an hour from the B & B Casa Olimpia
For those traveling with children, by us 1 child stays free in the parents' bed if up until 1 meter will, during the seasons opening, free admission to
Etnaland
the largest amusement park south of Italy half an hour from our B & B. A Casa Olimpia you can book from
matrimonial
to large
rooms for families with up to 5 beds
, Cribs, games and what is necessary to prepare a hot dish. For our young guests at your disposal
wonderful playground
, within easy walking distance around the corner, with many free attractions in a tropical garden surrounded much green of Etna citrus. You will also ride-on toy cars and, Inflatable pool and even enjoyable with boats, place in the evening for a little 'relaxation and a bite or a refreshing and tasty
border
After long day of sightseeing in the area. Nearby adventure parks,
ristoranti
with playground as Villa Mirador, Planetarium and much more see
Sicily with children