Etnaland Catania ThemePark 2021 is open every day from 16 July al 31 August 2021, Acquapark by day and ThemePark in the evening. Come and visit the theme park with its fantastic Etnaland attractions for children and adults, amusement park games Sicily. Partner Hotels Offers hotels B & B Hotels near Etna Land where to sleep? Map address and how to get. Find children free entry coupon discount up to 1 metro. When it opens? opening time. Prices tickets Etnaland Sicily 2019 Etnaland Weather Forecast Photos Video Etnalandia Dinosaurs rides https://www.casaolimpia.it/?p=1599
Catania Etnaland amusement park
At the Themepark Etnaland also get ready for an adventure to size mammoth! Ice Age - Dawn of the Dinosaurs: The 4D experience! That is a teaching or spectacular projection, 4D cinema content are proposed using the exciting multi-sensory technology and the latest generation of multi-dimensional, not just a passive projection glued on a chair!
The advanced technology lets you experience amazing special effects: the magic of a fantastic snowfall, a graceful flicker of bubbles, the sudden vibration of the seats, sudden refreshing water spray, light puffs of wind, intoxicating scents in the air, amazing strobe lights and a curious tickled the legs.
A really close and engaging that will plunge into an exhilarating world through multisensory adventure Scrat company, his inseparable acorn, i mammuth Elly e Manny, Sid the sloth and Diego, the tiger.
Etnaland park Catania ThemePark games 2019 novità, offer discount ticket prices and info Etnaland theme park amusement park of Sicily and the largest southern Italy
Etnaland Catania always ThemePark spectacular new theme park mechanic, inaugurated in 2013 but renewed and expanded each year, It offers over 30 attrazioni. It will not end to surprise you, find mega roller coaster "interactive" set in a haunted school with wagons that will go from classroom to classroom and games of all kinds for children and adults.
Born as a safari park zoo in Sicily at the foot of 'Etna and it has since developed as a theme park along the lines of Gardaland, or Disneyland. Today & egrave; the pi & ugrave; largest theme park in southern Italy and & egrave; destination for many visitors from Sicily, Calabria, Puglia e Malta.
Catania Etna Land Theme Park How much you pay?
What offers and prices 2021?
Ticket 2 giorni o 2 parks you pay less?
The Etnaland Park is open every day from 16 July to 31 August 2021. Attention: in compliance with the Covid-19 containment protocol this year, admissions will be limited, therefore we recommend that you buy your ticket online in order to guarantee entry to the Park and a more advantageous rate.
Catania Etnaland theme park when it opens? daytime and evening hours. Price tickets Etnaland ThemePark, Children discounts coupons for free
The box office opens one hour before the already Etnaland parks, however, it is better to buy tickets online to have a lower price and certainty of entry. you can buy online tickets Etnaland thus avoiding making the checkout line.
Catania Etna Land Theme Park Awards and Reviews
E 'was awarded the title of the year Italian Park and Best Attraction in Europe: these are the two very prestigious awards that were awarded to Etnaland in the 12th edition of "The Parksmania Awards", a sort of "industry Oscar winner" that involves the world of amusement parks and all those involved: attractions, scenografie, personale, spettacoli. Etnalandia won the award of Park & ​​rsquo; year because & eacute; & Egrave; & Ldquo; The Italian park that has recorded the biggest jump of quality & agrave; from last season to the current one & rdquo;.
And that has been defined by experts as: "News of the year and important signal of renewed vitality for the Italian industry, in a park that offers a complete product and full of exciting attractions and well-executed. "While the award Best Attraction Europe was awarded to the megalith coaster, The Storm che, gli esperti di Parksmania, defined as: "Pure adrenaline for a roller coaster can offer strong feelings and great fun for all fans of the genre". Photos and videos of some of the following attractions

Map Catania Etnaland theme park attractions and full map
For the 2019 I expect big surprises and updates to super high tech attractions previous seasons as Viewers reality & agrave; increased VR al the Prehistoric Park

Tutte le attrazioni con anno di realizzazione
Area tematica ingresso Etnaland Tower (2013) – The Storm (2013) – Laser Show (2013) – Funivia (2013) – Cinema 4D (2013) – Babele (2014)- Revo-Rock 360 (2015) – Drifting Karts (2015)
Villaggio minerario The School (2013) – Eldorado (2013) – Kaos (2013) – Kasimiro (2013) – Love Lagoon (2013) – 1900th (2013) – Gran Carillon (2014)
Area tematica spazio Wording (2013) - Quasar (2013)
Area tematica per l'infanzia Cops and Robbers (2013) - the Ciclopino Castle (2013) - Billow Balloon (2013) - Ciclopina's Tower (2013) - Hip Hop Coaster (2013) - Mini Tornado (2013) - Brave Kart (2013)- LeleFante (2014) - Camellotto (2014) - TazzeMatte (2014) - Mini wording (2014) - Twistarello (2014) - mini tornado (2014)- Rondò (2014) - Miao Coaster (2015)
Area tematica giochi d'acqua Crocodile Rapids (2006) – Jungle Splash (2010) – Dragon River (2012)
Big news & agrave; Also in the water park
Catania Etnaland theme park attractions and retail use minimum height
The attractions are divided into areas and by theme: twirling, dream, fly and challenge. The symbol in the bottom right if red baby indicates that & egrave; an attraction to boys 1,4 meters up, if yellow from 1,2 meters up or assisted, if the green with a minimum height 0,9 meters.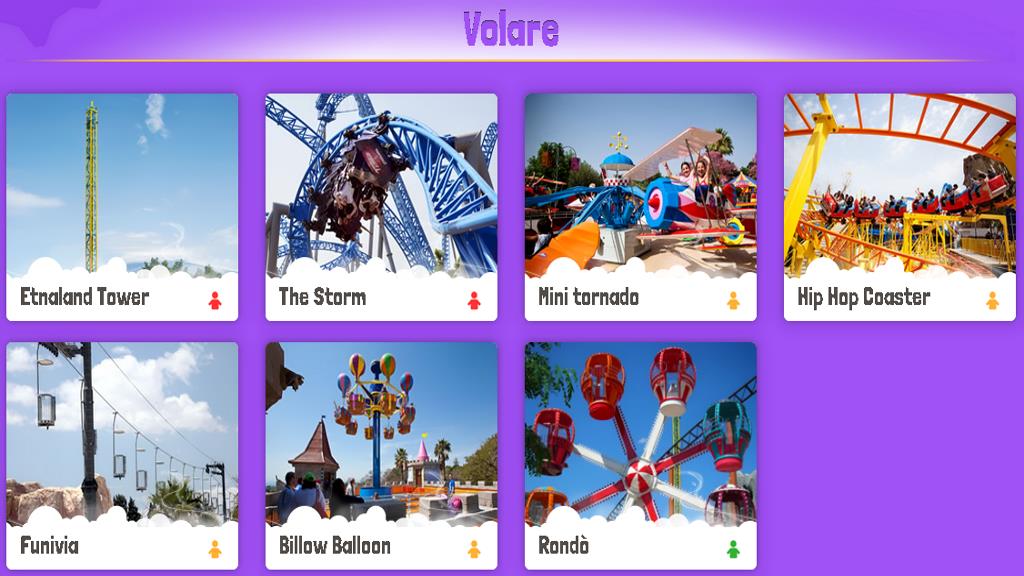 Catania Etna Land Theme Park Laser show
Questa attrazione, realizzata al coperto in un locale cinematografico, consente di assistere a uno spettacolo di suoni e luci laser 3D, nebbie volumetriche, giochi luminosi e sonori e tanti altri effetti visivi coinvolgenti.
Etnaland Catania ThemePark La funiva, meteo Etnaland, info contacts, Getting there and map, where to eat, where to sleep Offers Etnaland more hotels near Etna Land Catania B & B agreement
Etnaland la Funivia
La Funivia, with its 1800 meters, è la più grande telecabina a percorso pentagonale esistente in Europa. Costituita da 23 piloni di sostegno e da 5 stazioni di deviazione, è provvista di 146 cabine per una capacità di 700 people now. By performing the scenic ride on the cable car, you will enjoy a rare and unforgettable experience: you will see the Etna, the immensity of the valleys and coasts, You will fly over all 3 the parks, the wonderful Botanic Park, The fun water park and the large Prehistoric Park
Etnaland meteo previsioni del tempo prossimi 7 days
Clicca qui per bollettino meteo PDF Etnaland stampa prossimi 7 days.
Etnaland Where to eat? Further information and contacts
Inside the park you can find plenty of dining options where you can choose a simple sandwich, pizza, full lunch menu and various offers with drink included . For lovers of DIY, There are several picnic areas where you can eat and share with friends the things that you brought with you from home. For more information about the park, cost tickets contact Etnaland during office hours at the following numbers (0039) 095 9897101 / 095 9897102 / 095 7913333 or
visit the web site Etnaland
Etnaland where it is and how to get
Etnaland Where to stay? Etnaland offers more hotels near convention and free child ticket free ticket
Looking for B & B, partner hotels or hotel deals near Etnaland Belpasso? Olimpia House rent rooms or entire apartment with a discount of residence or child free if up until 1 meter (in parents' bed) and free entrance to the park. We are located a half hour drive away in an ideal location for sightseeing too
Taormina
, Etna and Catania and just 2 km dal
great
.
To book rooms stay and fill out the information request form or call us at 3294138813
See path for how to get to Etna Land in half an hour from the B & B Casa Olimpia
For those traveling with children, by us 1 child stays free in the parents' bed if up until 1 meter will, during the seasons opening, free admission to
Etnaland
the largest amusement park south of Italy half an hour from our B & B. A Casa Olimpia you can book from
matrimonial
to large
rooms for families with up to 5 beds
, Cribs, games and what is necessary to prepare a hot dish. For our young guests at your disposal
wonderful playground
, within easy walking distance around the corner, with many free attractions in a tropical garden surrounded much green of Etna citrus. You will also ride-on toy cars and, Inflatable pool and even enjoyable with boats, place in the evening for a little '
relax
and a bite or a refreshing and tasty
border
After long day of sightseeing in the area. Nearby adventure parks,
ristoranti
with playground as Villa Mirador, Planetarium and much more see
Sicily with children